Self-Wash
Fully equipped private rooms, all supplies are provided. We use high-quality shampoo/conditioner and have oatmeal or hypo on request. We also have a large selection of specialty shampoos for purchase or feel free to bring your own.
Self-wash closes ONE HOUR prior to shop.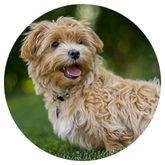 Self-Wash Per Dog
$16.00 price is per dog - No scheduled time needed and no set time limit. Multiple dogs are easy in our private rooms. Please, no extensive trimming or grooming in self-wash rooms. We provide a comb, slicker brush, and zoomgroom brush for de-shedding. We are open today until 7:00 PM.

Frequent Wash Program
6 for 1 - Free wash after every 6 washes - we keep your history so there is no card to carry!
Come visit our pet supply store in Parker, CO specializing in quality food, treats, and supplies for cats and dogs.